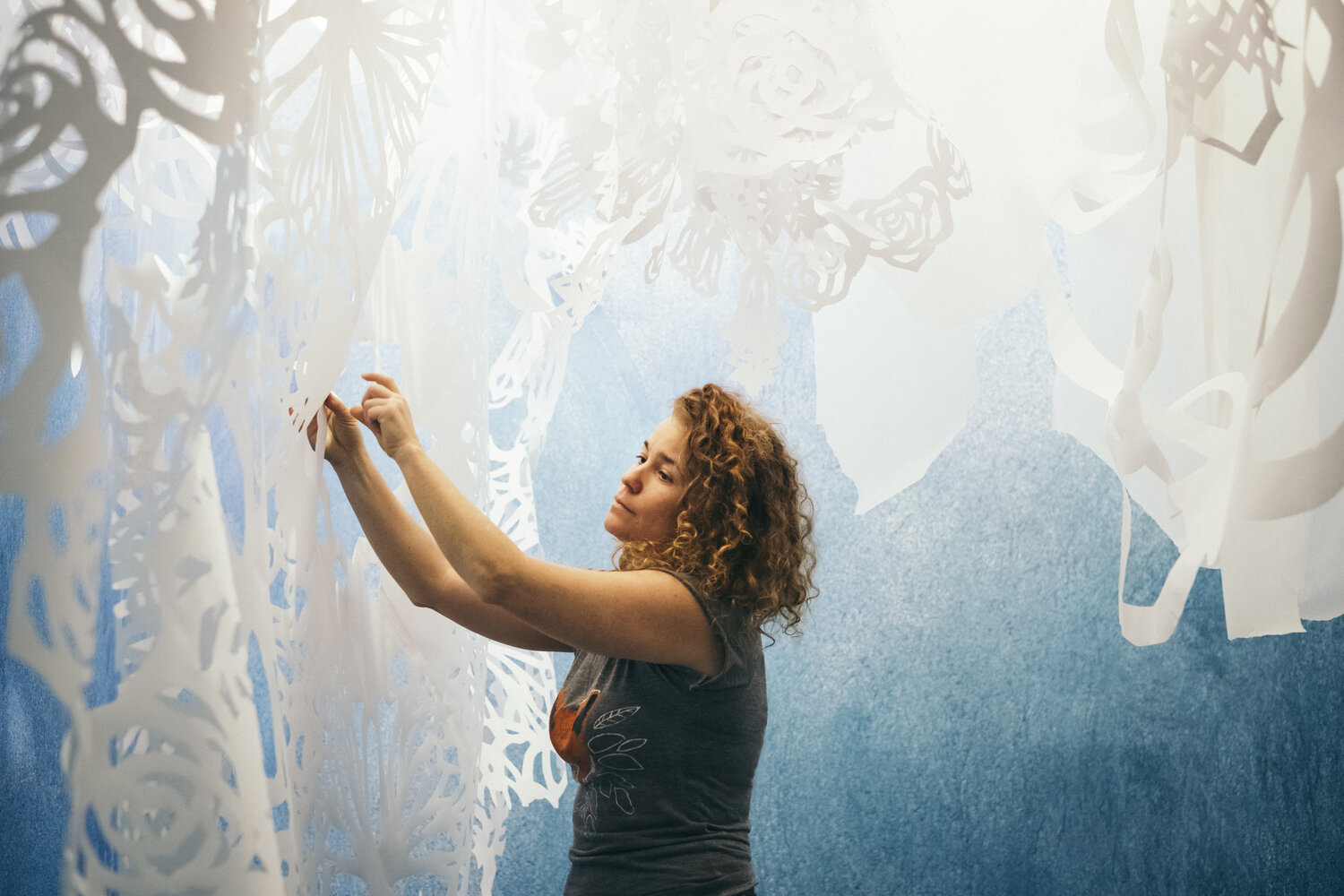 Mutiny in Colour Exhibition: Artist Profile - Swoon
Thursday 18 May 2023
With over 250 pieces of contemporary art displayed across three exhibitions at Moyse's Hall Museum, National Horse Racing Museum and Haverhill Arts Centre, this summer's Urban Frame: Mutiny in Colour exhibition will be one of the biggest contemporary art exhibitions in the UK, this year.
All three exhibitions will host works from Banksy, Blek le Rat, My Dog Sighs, Grayson Perry, Pure Evil, Kaws, the Connor Brothers, Damien Hirst, Tracey Emin, Sherlock, Swoon, Ben Eine, Bambi, Hush, Lamont White and many more!
Below, we profile contemporary artist Caledonia Curry, whose work appears under the name of Swoon:
Swoon (born 1971) is a Brooklyn based artist and social activist widely known as one of the first women to achieve large-scale recognition as a street artist. She was part of a group of artists in the early 00s, including JR and Banksy, that were committed to pushing the forms and conceptual limits of the Street Art genre.
As early as 1999, searching to carve her own pathway and make her work more accessible to everyday people, she began pasting her paper portraits to the sides of buildings. At first, she pasted work anonymously. Later, she took the moniker Swoon, which appeared in a friend's dream.
Swoon has wheatpasted her intricate portraits on city streets around the world, including New York, Detroit, San Francisco, London, Bilbao, Hong Kong, Djerba, Cairo, Tokyo, and Jogjakarta. Her imagery is drawn from friends, family and other people she has met whose lives she wants to honour. She often elevates subjects who are unseen or overlooked within the urban landscape, or marginalized within the infrastructure of the city itself.
Swoon has also been included in public art interventions including Santa's Ghetto (2007), a clandestine installation on the West Bank barrier wall in Bethlehem, organised by Banksy.  More recently she has also moved on to doing fantastical large installations and film animation.  Her work continues to incorporate her interest in people, communities and how global issues affect these people.