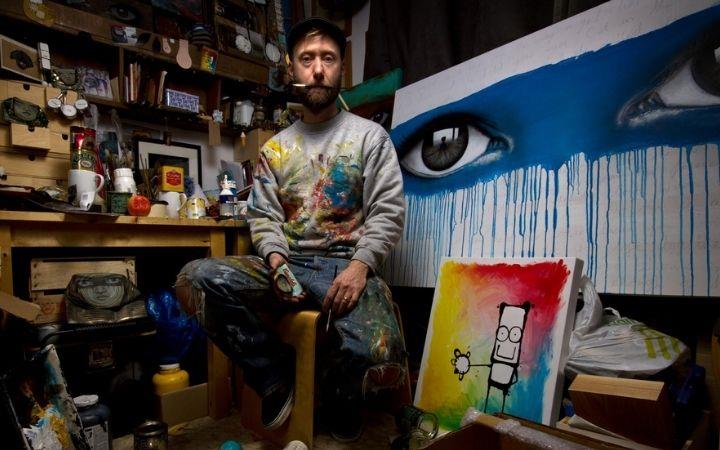 Recycling and rethinking how we exhibit for 'Mutiny in Colour'
Thursday 18 May 2023
A promise from the West Suffolk Heritage Team at Moyse's Hall Museum and West Stow Anglo-Saxon Village as part of West Suffolk Council's commitment to Net Zero...
''Inspired by artist My Dog Sighs and his excellent talk here in 2021 we are drastically reducing our waste creation for 'Mutiny in Colour'. How can we celebrate modern artists that show the way by reusing anything they can get their hands on if we ourselves are creating unnecessary waste.
We are not creating anything destined for landfill. We are cutting our paper use by at least 90%. 
No fancy foamboard information panels destined for landfill
All fixtures and fittings reused from past displays
No paper labels - we're using up leftover paint/pens from our storeroom and writing directly on the walls
No printed artist biographies, all 25[ish] are being digitally displayed and running off one single touchscreen computer
Set dressing borrowed from artists and created using waste crates, broken bricks, and other bits from other council departments and our friends on the market.  
This comes after our first 'Banksy-led' exhibition, Moments, saw generous sponsorship from local firms pay for more energy efficient lighting in the Great Hall for temporary exhibitions. 
Together with thinking about how we can be better going forward, we were also inspired by conversations with the 'Friends of Moyse's Hall Museum' who support our projects endlessly. So a thank you to them as well.
It's going to look rough around the edges, but hopefully 'good rough' around the edges. Can't wait to show you all!''