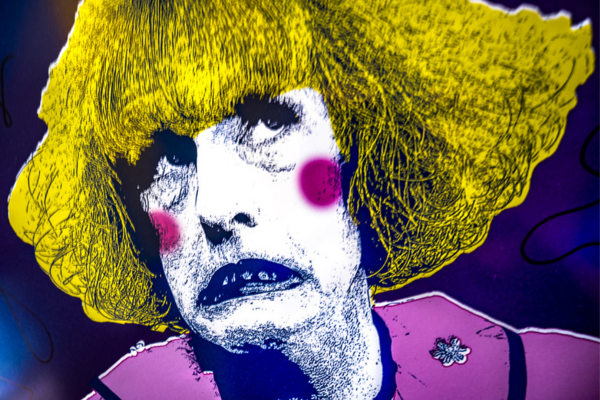 Mutiny in Colour Exhibition: Artist Profile - Grayson Perry
Wednesday 7 June 2023
With over 300 pieces of contemporary art displayed across three exhibitions at Moyse's Hall Museum, National Horse Racing Museum and Haverhill Arts Centre, this will be one of the biggest contemporary art exhibitions in the UK, this year.
All three exhibitions will host works from Banksy, Blek le Rat, Pure Evil, My Dog Sighs, Kaws, the Connor Brothers, Damien Hirst, Grayson Perry, Tracey Emin, Sherlock, Swoon, Ben Eine, Bambi, Hush, David Shrigley, Lamont White and many more!
Below, we profile the much-loved artist and national treasure, Grayson Perry. 
Sir Grayson Perry CBE RA Hon FRIBA (born 1960) is an English contemporary artist, writer and broadcaster. He is known for his ceramic vases, tapestries, and cross-dressing, as well as his observations of the contemporary arts scene, and for dissecting British "prejudices, fashions and foibles".
Perry's vases have classical forms and are decorated in bright colours, depicting subjects at odds with their attractive appearance. There is a strong autobiographical element in his work, in which images of Perry as "Claire", his female alter-ego, and "Alan Measles", his childhood teddy bear, often appear.
He has made a number of documentary television programmes has curated exhibitions. He has published two autobiographies, Grayson Perry: Portrait of the Artist as a Young Girl (2007) and The Descent of Man (2016), written and illustrated a graphic novel, Cycle of Violence (2012), written a book about art, Playing to the Gallery (2014), and published his illustrated Sketchbooks (2016). Various books describing his work have been published. In 2013 he delivered the BBC Reith Lectures.
Perry has had solo exhibitions at the Bonnefantenmuseum, Stedelijk Museum Amsterdam, the Barbican Centre, the British Museum and the Serpentine Gallery in London, the Arnolfini in Bristol, The Andy Warhol Museum in Pittsburgh, and the 21st Century Museum of Contemporary Art, Kanazawa, Japan. His work is held in the permanent collections of the British Council and Arts Council, Crafts Council, Stedelijk Museum Amsterdam, Tate and Victoria and Albert Museum, London.
He was awarded the Turner Prize in 2003. He was interviewed about the win and resulting press in Sarah Thornton's Seven Days in the Art World. In 2008 he was ranked number 32 in The Daily Telegraph's list of the "100 most powerful people in British culture". In 2012, Perry was among the British cultural icons selected by artist Peter Blake to appear in a new version of his most famous artwork—the Beatles' Sgt. Pepper's Lonely Hearts Club Band album cover—to celebrate the British cultural figures of his life.