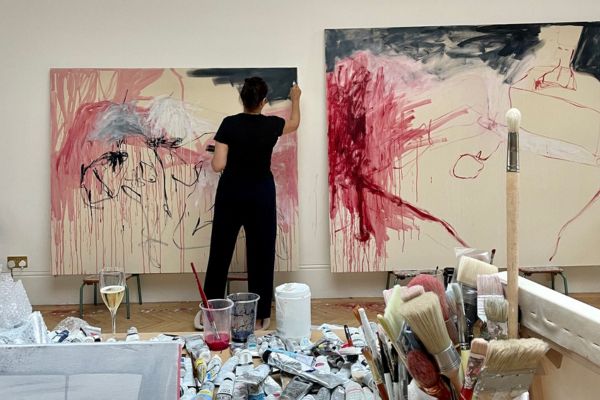 Mutiny in Colour Exhibition: Artist Profile - Tracey Emin
Thursday 13 July 2023
With over 300 pieces of contemporary art displayed across three exhibitions at Moyse's Hall Museum, National Horse Racing Museum and Haverhill Arts Centre, this will be one of the biggest contemporary art exhibitions in the UK, this year.
All three exhibitions will host works from Banksy, Blek le Rat, Pure Evil, Keith Haring, My Dog Sighs, Kaws, the Connor Brothers, Damien Hirst, Grayson Perry, Tracey Emin, Sherlock, Swoon, Ben Eine, Bambi, Hush, David Shrigley, Lamont White and many more!
Below we profile the artist Tracey Emin, who hit the spotlight in 1999 by becoming a Turner Prize nominated nominee.
Tracey Karima Emin CBE RA (born 3 July 1963) is a British artist known for autobiographical and confessional artwork. She produces work in a variety of media including drawing, painting, sculpture, film, photography, neon text and sewn appliqué. Once the "enfant terrible" of the Young British Artists in the 1980s, Tracey Emin is now a Royal Academician.
In 1997, her work Everyone I Have Ever Slept With 1963–1995, a tent appliquéd with the names of everyone the artist had ever slept with, was shown at Charles Saatchi's Sensation exhibition held at the Royal Academy in London. In the same year, she gained considerable media exposure when she swore repeatedly when drunk on a live British TV discussion programme called The Death of Painting.
In 1999, Emin had her first solo exhibition in the United States at Lehmann Maupin Gallery, entitled Every Part of Me's Bleeding. Later that year, she was a Turner Prize nominee and exhibited My Bed – a readymade installation, consisting of her own unmade dirty bed, in which she had spent several weeks drinking, smoking, eating, sleeping and having sexual intercourse while undergoing a period of severe emotional flux. The artwork featured used condoms and blood-stained underwear.
Emin is also a panellist and speaker: she has lectured at the Victoria and Albert Museum in London,[9] the Art Gallery of New South Wales in Sydney (2010), the Royal Academy of Arts (2008), and the Tate Britain in London (2005) about the links between creativity and autobiography, and the role of subjectivity and personal histories in constructing art.