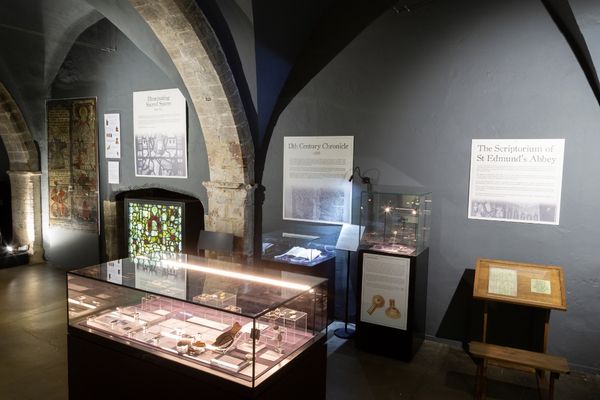 Abbey 1000 Exhibition - Edmund Bone Fragment
Thursday 25 August 2022
A tiny piece of alleged "Edmund" bone
At the beginning of 2022, quite far down the line of planning for the Abbey 1000 displays here at Moyse's Hall, we found out an Edmund the Martyr 'first class' relic was up for sale in the US. A 'first class' relic is a body part, perhaps a piece of flesh, bone, blood, hair, nail clipping, and so on.
Relics of saints were considered the most desirable thing to see at the end of a long pilgrimage and our local Abbey would have benefitted greatly by having one of the most famous saints of the day entombed at the main church.
As relics are dubious in provenance, particularly for our special saint, we were unlikely to find funding swiftly for the auction, but for us these reliquaries hold a story, whether a genuine piece of the person or not, they inspire the imagination and provoke wonder at whether they might be a mortal link to such a notable, and historical scant, figure.
The seller remarked that he'd purchased it in France, with a possible place of origin being the infamous and debunked Toulouse Edmund relics. Despite being debunked these inspired people for generations and still do to this day, such is the power of our saint's legend. The wax seal which still encases the locket, with the impression of a (probable) family coat of arms still visible. The College of Arms are looking into which European family this may represent. 
A chance conversation with John Brandler, the lender of the 'Moments' exhibition in 2021, which brought millions of pounds-worth of original Banksy pieces to our town, led to him secretly purchasing and gifting the piece to the people of Bury St Edmunds by way of thanks for how much fun he had working here. A huge thank you to John and Linda Brandler, of Brandler Galleries, for this immense gesture. Along with an arrow that legend states killed Edmund, and an alms box carved from an oak some believed he was martyred against, (kindly on loan from St Edmund King and Martyr Catholic Parish, Bury St Edmunds) we have a 'Relic' case demonstrating the essence of the ideal pilgrimage destination, pieces touched by Edmund, along with his 'alleged' remains.
The tiny bone fragment, about 2mm squared, sits centre stage within the displays until 30 September, free to view thanks to the support of the National Lottery Heritage Fund and West Suffolk Council.
Image: Phil Morley