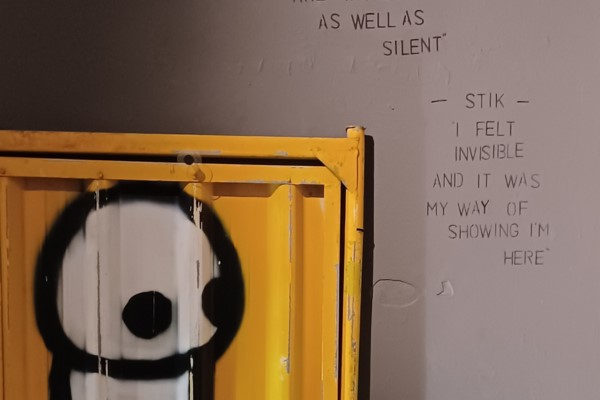 An Organic and Evolving Exhibition Inspired by Visitors
Wednesday 7 June 2023
During conversations with street artists when planning this summer's 'Mutiny in Colour' exhibition, they gave a sense of changing spaces when we view the urban landscape. 
As a result, Moyse's Hall Museum will be letting 'Mutiny in Colour' evolve over the summer with a view to the space being very different by the end. 
Words will be added, art pieces created, set dressing will grow.
Dan Clarke, Moyse's Hall Heritage Officer & Curator of the exhibition explains, ''We will respond to what the public are saying. On Saturday (opening day), we had a few comments that really resonated. One visitor spoke of her response to STIK, of which we have an industrial door depicting one of his infamous figures. We chatted through what must have been a terrible time while the artist was homeless on the streets of London and how that makes his pursuit of hopeful and kind images even stronger. We dug through some interviews that STIK gave while he was speaking of the 'unseen homeless' and have added quotes to the displays. STIK is a great example of adding the 'human' to art, and these quotes perfectly show this.''
He goes on to say  ''We're also digging through a conversation we had with the immense 'Swoon', who chatted to us via Instagram during the 'Moments' exhibition [2021] about a piece Brandler Galleries has kindly managed to sort for us this time around. Look out for the powerful image, 'Argentina', by her.''
Further comments/quotes by the artists have now been added to the work on display including WK Interact, Grayson Perry, Peter Kennard, My Dog Sighs, Anish Kapoor, with more to follow over the coming days; all as a result of conversations with the visitors. 
Thanks to the street artists for speaking of organic changes as this has given us a real impetuous to engage with how the viewers are seeing the displays. 
Mutiny in Colour, one of the UK's biggest and most exciting contemporary art exhibitions is now open! 
The exhibition is being held across three venues in three West Suffolk towns with visitors encouraged to visit all three to get the full experience. 
The exhibition is at the National Horse Racing Museum and West Suffolk Council run Moyse's Hall Museum in Bury St Edmunds. The third venue, Haverhill Arts Centre, will join the exhibition on 15 July. 
With special thanks to Brandler Galleries. 
Book now at The Urban Frame: Mutiny in Colour.